ABOUT TECH-NET
ABOUT TECH-NET
TECH-NET Professional is an elite performance network where independent service facility members have a common goal of being world-class automotive service facilities. The TECH-NET Professional program provides superior customer service by combining high-quality Advance Auto Parts parts, skilled automotive technicians and innovative consumer marketing programs.
The TECH-NET Professional Mission Statement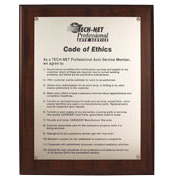 TECH-NET Professional is committed to serving you, our customer, with professional automotive repair at a reasonable cost with qualified technicians. We use quality Advance Auto Parts parts, guaranteed coast to coast. We stand on sound business principles and uphold high ethical standards. Our goal is to make your automotive repair experience friendly and successful.
Testimonials
Heather H.
Stop and Ride was recommended to me by Randy Massey of Neighborhood Paint and Body in Jefferson after my car started acting up. The staff were friendly and professional. I had shown up and decided to wait while they diagnosed the problem. They initially said it would be about 45 minutes, but after about 30 minutes, one of the staff (sorry, I didn't get his name!) told me that it was going to be longer. They even offered to drive me home. About 2 hours later they called me and told me what was wrong, gave me an estimate and told me they'd be done in about an hour. Exactly an hour and six minutes later I arrived to find my car running perfectly.. And the quote they gave me over the phone was exactly what they had charged. I will definitely be a return customer. I've been looking for a good, reliable auto mechanic ever since I moved to Jackson County, and it's a relief to know I've found one. Thank you, Stop and Go!
view all reviews