CODE OF ETHICS
CODE OF ETHICS
As a member of the TECH-NET Professional program we agree to: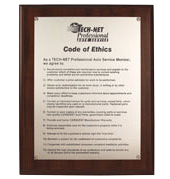 Recommend corrective and maintenance services and explain to the customer which of these is required now to correct existing problems and which are for preventive maintenance.


Offer customers a price estimate for work to be performed.


Obtain prior authorization for all work done, in writing or by other means satisfactory to the customer.


Make every effort to keep the customer informed about appointments and completion deadlines.


Furnish an itemized invoice for parts and services, priced fairly, which clearly identifies any used or remanufactured parts. Replaced parts may be inspected upon request.


Furnish or post copies of any warranties covering parts or service. Use quality Advance Auto Parts auto parts, guaranteed coast to coast.


Provide and honor Advance Auto Parts manufacturer warranties.


Exercise reasonable care for the customer's property while it is being serviced.


Make every effort to fix the customer's vehicle right the "first time".


Maintain a system for fair settlement of customer's complaints.


Cooperate with established consumer complaint mediation activities.


Uphold the high standards of the profession and seek to correct any or all abuses within the automotive industry.


Testimonials
Heather H.
Stop and Ride was recommended to me by Randy Massey of Neighborhood Paint and Body in Jefferson after my car started acting up. The staff were friendly and professional. I had shown up and decided to wait while they diagnosed the problem. They initially said it would be about 45 minutes, but after about 30 minutes, one of the staff (sorry, I didn't get his name!) told me that it was going to be longer. They even offered to drive me home. About 2 hours later they called me and told me what was wrong, gave me an estimate and told me they'd be done in about an hour. Exactly an hour and six minutes later I arrived to find my car running perfectly.. And the quote they gave me over the phone was exactly what they had charged. I will definitely be a return customer. I've been looking for a good, reliable auto mechanic ever since I moved to Jackson County, and it's a relief to know I've found one. Thank you, Stop and Go!
view all reviews